Save the Internet Fundraising Drive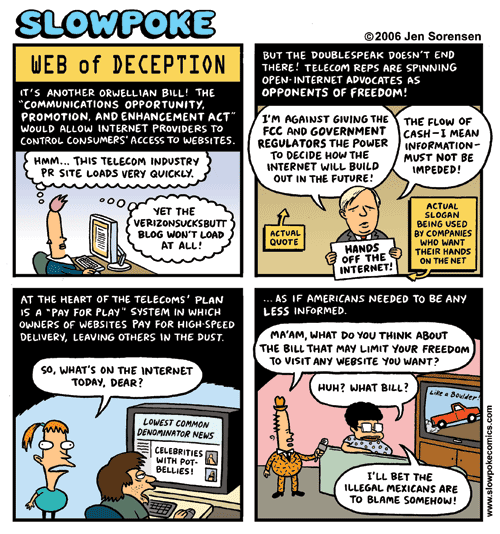 Yes I'm surviving TIFF '08, thanks for asking. It's been a great year, but I'm very much looking forward to getting to the weekend and sleeping for several days. More recap later.

I just got a brief e-mail from Timothy Karr, the campaing director of the (excellent) SaveTheInternet.com that they are looking to raise $25,000 today to help them fight Comcast's appeal of the FCC's precedent-setting August ruling against Comcast's network throttling practises.
I've written before why network neutrality is so important, especially why I believe that conceptualizing the internet like a utility, not a content channel is fundamentally key for consumers and producers of digital content.
SaveTheInternet.com has been one of the most vocal supporters in fighting some very deep pockets in the US to promote the concept of network neutrality – and given the influence that US policy tends to have globally, I strongly encourage everyone to help support them and spread awareness of their fight.
[ Edit – Some generous soul has also set up a $300,000 fund to match any donations made today – so if you were on the fence about putting your money where your mouth is… now's your chance to double your impact! ]
Full e-mail after the jump.

Late last week, Comcast filed a lawsuit to overturn the landmark Federal Communications Commission order to stop blocking users' access to the free and open Internet.

With its army of lawyers and billions of dollars, Comcast is betting it can dismantle the protections that you and hundreds of thousands of other Free Press and SavetheInternet.com supporters fought so hard to establish. Free Press Action Fund is rallying our small legal team to fight Comcast, but we urgently need your help.

Don't Let Comcast Overrule the FCC

Our lawyer is now reviewing the fine print of Comcast's appeal. But that's just the first step in what could be a drawn-out legal battle; to fight through to the end, we must raise $25,000 today. Your contribution will make sure we have the resources we need to take on Comcast's lawyers.

We've learned time and again that we can defeat phone and cable giants by meeting them on their own turf. We know we're on the right side of this historic issue. As long as we stand up to them every step of the way — in court, in Congress and at the FCC — we'll keep winning.

Protect Our Net Neutrality Victory: Contribute Now

With your support, Free Press will fight the appeal and intervene to defend our victory in the FCC decision.

It's a heavy lift for our two-person legal team and will require our ongoing involvement in the case. We're a member-driven organization fighting for the rights of individuals. We don't have Comcast's billions, but we do have the skill and determination to defend the Internet from abusive corporate practices.

The FCC ruling against Comcast is our most important victory yet for Net Neutrality. We cannot afford to lose in court. Please send the most generous contribution you can right now.

With gratitude,

Timothy Karr
Campaign Director
Free Press Action Fund
www.freepress.net
www.savetheinternet.com

P.S. Our victory last month against Comcast was a milestone in the fight for an open Internet. We defied every ounce of conventional wisdom in Washington by proving that activists, bloggers, consumer advocates and everyday people could join forces through Free Press to defeat a major corporation. Now it's time to defend that victory in court. Please contribute now.
(NB: The Free Press Action Fund is a 501(c)(4) – a registered federal non-profit charity, but not tax-deductable, to allow them greater freedom in their lobbying actions. If that's a big deal to US readers, you can consider contributing to the Free Press – the related 501(c)(3)… although I'd point out that I have no idea how one can make an effort changing telecommunications policy in Washington without significant lobbying to even explain the terms of the debate).