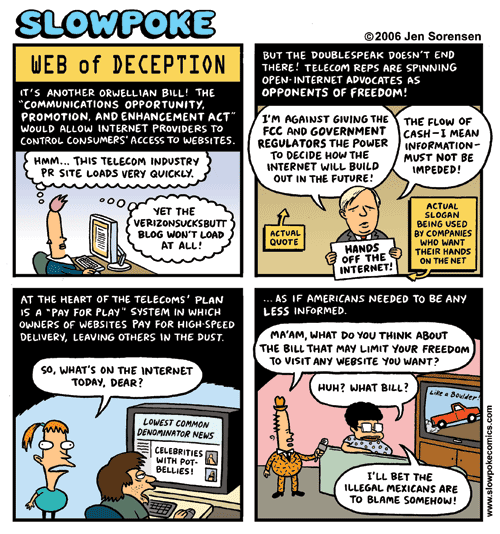 Yes I'm surviving TIFF '08, thanks for asking. It's been a great year, but I'm very much looking forward to getting to the weekend and sleeping for several days. More recap later.

I just got a brief e-mail from Timothy Karr, the campaing director of the (excellent) SaveTheInternet.com that they are looking to raise $25,000 today to help them fight Comcast's appeal of the FCC's precedent-setting August ruling against Comcast's network throttling practises.
I've written before why network neutrality is so important, especially why I believe that conceptualizing the internet like a utility, not a content channel is fundamentally key for consumers and producers of digital content.
SaveTheInternet.com has been one of the most vocal supporters in fighting some very deep pockets in the US to promote the concept of network neutrality – and given the influence that US policy tends to have globally, I strongly encourage everyone to help support them and spread awareness of their fight.
[ Edit – Some generous soul has also set up a $300,000 fund to match any donations made today – so if you were on the fence about putting your money where your mouth is… now's your chance to double your impact! ]
Full e-mail after the jump.
Read more