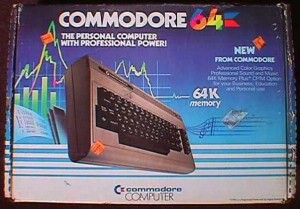 One of the editing suites I've been working in lately has a great poster on the wall – it's a photocopy of a flyer for a local computer store sale around 1992 or so. It's always great to remind yourself how far technology has come in price alone (A handheld Logitec Scan-Man 256 shade greyscale scanner for $500? What a STEAL). It's the same reason I keep a couple of carefully selected copies from my old subscriptions to Compute! and PC Gaming & CD-ROM Review around (I love that it split into two magazines so as not to taunt those without CD-ROM drives).
Every once in a while though you get a real tangible example of how far computing has come, and how quickly (I had a realization last year that three or four old-ass pentiums I had kept around for various server grunt-work at home could be collectively replaced (and improved substantially) with one $50 five year old used HP desktop off-lease office system… that also used only a fraction of the electricity of it's predecessors).
This is all just set up to link to this fun piece from Technologizer, where Harry McCracken compares the venerable Commodore 64 with the new iPhone 3GS. Not a lot of deep insight to be gained – but a couple of good "gee-whiz" moments when looking at specs and a nice trip down technology memory lane.
Lots of network neutrality thoughts likely to come up this week with the big CRTC hearings set to begin July 6th.