72 Hours to TCAF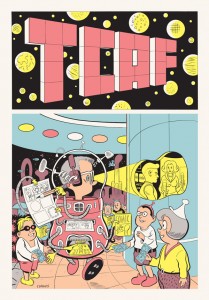 I'll admit it, I'm torn. The Toronto Comic Arts Festival used to be this cool little bi-annual secret of the city. I was there at the beginning in 2003 and it was like hanging out at the worlds coolest indie comic shop book-signing; Fast forward six years and I'm sitting in a sold-out Harborfront Center listening to Adrian Tomine, Seth, and freaking Yoshihiro Tatsumi. Scott McCloud is sitting in front of me and a veritable horde of girls keep chattering behind me because they are trying to surreptitiously photograph a guy they assumed was Jeph Jacques. I don't actually remember if it was Jeph Jaques or not… (although it's pretty funny if they just assumed some random guy was Jeph Jacques) but that's not the point. My point is that this memory is the diametric opposite of a "tiny well kept secret". </preamble>
This years line-up is ridiculous, and there's a truly staggering amount of info available on-line to plan an assault on the 'fest – given that it's free – there's not a single reason to not at least drop by the Toronto Reference Library. The size actually is now well into dangerous territory. In the past I could always wander around the exhibitors and pick up some random mini-comic stuff just for the heck of it. Those on twitter know I've been devouring The Comics Journals exhibitor preview and, I kid you not, my first draft "have to pick up" list would literally run seven hundred dollars. May need a re-think on that one. But there is a bounty of riches.
Just in case you need something cool to check out at TCAF – here's a really quick list of five Toronto-based projects I'm totally stoked about – and you should be too: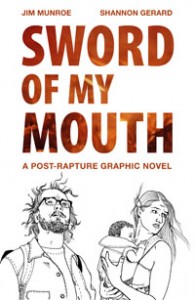 SWORD OF MY MOUTH – I'm 100% jonesing for Jim Munroe and Shannon Gerard's stand-alone follow up to the post-rapture adventure THEREFORE REPENT! I unfortunately can't make their launch party tomorrow (so no free seeds for me… but it's stop number one on Saturday before you all buy up all the copies. Well maybe stop number two. Depends on who's closest to the front door between them and my other Toronto art-crush…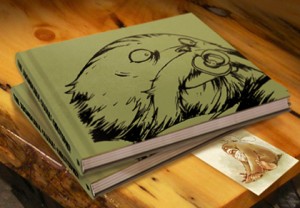 THE ABOMINABLE CHARLES CHRISTOPHER. Karl Kerschl's art is sublime, and the story he's telling over at Abominable.cc is so subtle and nuanced I actually have had a hard time following it on line. As such I've been really looking forward to a collected volume – and one this good looking is just icing on the cake.
I possibly e-mailed the folks at TX just to make sure they were going to have enough copies at the show.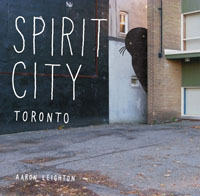 I don't know what to make of Aaron Lieghton's SPIRIT CITY TORONTO. The first I heard of it, at all, was it showed up – almost as a footnote – today in a list of works debuing at TCAF. So it's a (kids?) book where Leighton has drawn some of his trademark cool spirt-characters on photos of Toronto? Except it's never been mentioned anywhere on-line? And I thought Leighton lived in Calgary. There is only one possible solution. This is an actual ghost book. Then I found this on-line preview. Which is kind of awesome.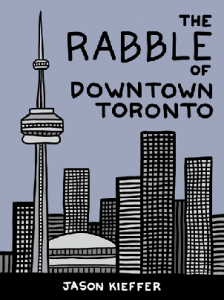 Jason Keiffer's THE RABBLE OF DOWNTOWN TORONTO isn't new (It's been out for several months) and I've actually passed on picking it up a couple of times, but it keeps popping up in newspapers, and blogs that I read over and over and has now firmly planted itself in my head as "something I need to read to form an opinion on". So… good job on that front Jason!

And in that same vein KENK.
A 300-page.
"Journalistic Comic".
Fumetti.
About Toronto bicycle-crimelord Igor Kenk.
Roll that around on your tongue for a while.
Other than that I'll be out and about – there's a number of the panels at the Pilot that I hope to be checking out on both days as well – so if you see me feel free to say hello!