Greetings from the Nation's Capital!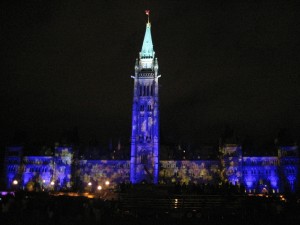 I felt bad about not doing a Canada day-specific post last week so this feels pretty good.
I had an uneventful trip to Ottawa today (an aside – why is it that just knowing you have a flight to catch at some point in the day – no matter when – always makes the whole day seem extra-stressful?) but was relieved to finally get to the hotel so I could go through "my routine". Whenever I'm travelling, and especially when I'm in a hotel I've never stayed at before, I'm always slightly uncomfortable until I can unpack, find a solid Internet connection, and walk a radius of a couple of blocks around the hotel itself. This little recon serves a number of purposes:
I can sort out what cardinal direction I'm facing in my room (I have no idea why this is important to me, but it is)
I can find out what's within walking distance of the hotel (good to find out there's a 7-11 across the street before you've emptied the mini-bar)
One of the best judges of a city (and the neighbourhood your hotel is located in) is the character of it's street-meat vendors
By getting outside at least once you never have to come back from a trip with the dreaded "I never left my hotel" travelogue
All those points served me quite well when I determined on my post-arrival jaunt that I was only a block from Parliament and that the Summer sound and light show is in full swing. This is how I found myself eating an Italian sausage (covered in sauerkraut) (which I bought from an East Indian gentleman with a cart covered in hockey stickers), amidst a bunch of Irish tourists, sitting on Parliament hill, watching a video projection of Inuit dancing, narrated in French. I smiled and thought to myself that there was truly nothing else I could possibly do that evening that could add to my private personal celebration of the Canadian cultural mosaic, so I called it a night and turned to walk back to the hotel.
Then I saw the Tim Horton's across the street.