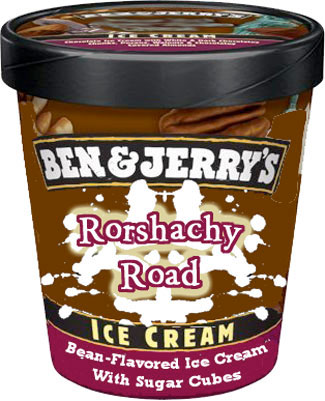 I don't mind sharing geek culture with the masses, but I find it difficult to explain (even to friends) how weird it is to see "Watchmen" stuff everywhere. It's like, my adolescent fever-dreams have escaped to manifest themselves as novelty keychains, or collectible limited-edition coffees.
Thankfully Bully, the little stuffed bull, eases my pain with his selction of delicious "Watchmen"-themed ice-cream.
Personally I think the "comment of the thread" award was won almost immediately by RAB who wrote:
The bowl is empty. The scoop is falling from my hand. I am eating the ice cream. I am bringing the groceries home. I am paying the cashier. I am seeing the ice cream in the freezer case for the first time. The scoop is falling from my hand. The morality of my diet escapes me.
Rounds of applause all around – and since "Watchmen Ice Cream" was too delicious a challenge to ignore, I leave you with my humble suggestion: