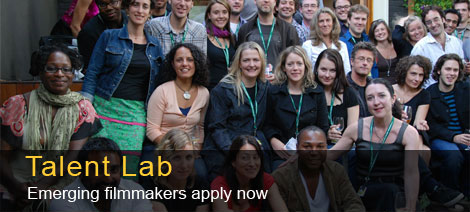 Considering there really isn't a topic for this blog beyond "shameless self-promotion", you think I'd be better at the promoting.
Toronto International Film Festival Talent Lab 2009 applications have been up for weeks now, and that means you have a hair under three weeks to get them in if you're an emerging Canadian writer, director, or producer interested in taking part in the 2009 Lab.
Sandra Cunningham and I will be co-producing this program again this year which is a real honour. I legitimately think this is one of the most inspiring developmental programs for film artists in the world, and a truly unique way to tap right into the heart of the creative brilliance that fuels the Toronto International Film Festival every fall. For four intense days the select group of 20 emerging artists will get to participate directly in group discussions with some of the worlds most notable filmmaker talent. It's an amazing experience, and I know it's made a real difference in the craft of many of the lab's former participants.
It hasn't been as bad as last year, but all the same – could I please ask anyone with questions about the program, or the application process to e-mail talentlab@tiffg.ca, instead of using my contact form? There is a crack Industry Initiatives staff that will be able to answer faster and (more importantly) will ensure no response gets lost in the cracks.
Application forms and support material are due at the TIFF offices by Friday June 26th at 5pm EST.