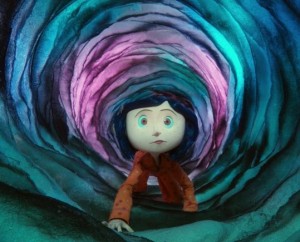 One last, for now, note on the on-going saga of Coraline's Box-Office. While (as I predicted) Coraline did overtake "Friday the 13th" this week, it not only wasn't by the large measure I had expected – but it dropped a whopping 54% to 5.3M, which was significantly more than I expected.
Thankfully BoxOfficeMojo set me straight by pointing out that the film lost over 700 3D screens to the opening of the new Jonas Brothers movie. (Interestingly I notice that the Jonas brothers per-screen average was actually lower than the "Coraline" per screen average last week. Wouldn't it be a kick if 'line managed to outlast them?
I promise to not harp on this any further… at least as relates to the importance of box-office openings.
…
Okay, just one more – Dear "Street Fighter: The Legend of Chun-Li", I know I said that opening-weekend box-office is generally indicative of nothing. However, that whole "getting bested on your opening weekend by a month-old stop-motion animation which was made with a smaller budget" thing? Not a good indicator.