Live From Gobblers Knob!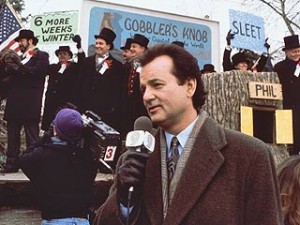 I have to admit I'm a little confused on how we're supposed to treat this, the most insane of meteorological celebrations, now that there is a vast field of pretenders to what was once Punxsutawney, Pennsylvania's sole domain. Is it like the supreme court of Marmota Monax? With this years predictions in at 6:3 for "six more weeks of winter" does Staten Island Chuck write the dissenting opinion?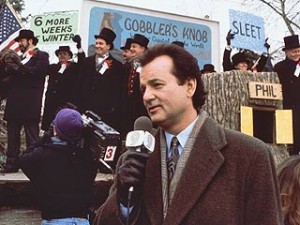 "Melverne Mel, Dunkirke Dave, myself, and several other members of our honourable assembly must find that we we see no evidence of a shadow whatsoever. Seriously, we looked all over the place. Our respective handlers waved us all over the place for several moments – collectively almost a minute. We also must strongly question what kind of rigorous diligence can be expected from our honourable colleague, given that he willingly lives in a property called Gobblers Knob?"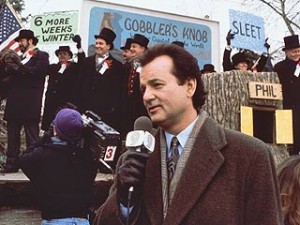 Or is it less a uniform consensus we are looking for than a forecast tailored to a specific general local? Not that it matters in this specific case as Wiarton Willie seems to be with the majority this year. I kind of like this reading, as the forcasts for Toronto have been a little shaky this year, and I like the idea that flinging around small mammals is just an effective method of prognostication as doppler radar. "Hey Rob, do you know if I need to take an umbrella with me?" "Hang on a second and let me see if the cat attacks my mouse pointer with it's left or right paw!" "What's the weather going to be like on my trip tomorrow?" "Take the raccoon out of the drier and see how many times it circles around before it gets into our garbage and throws up on our deck… multiply that by eight for your temperature in Fahrenheit."
In conclusion – this is truly a spectacularly bizarre tradition, even by the somewhat lax standards of North-American-post-Christmas-festivities.
… I'll stop this now… but know ye well that I could have HAPPILY kept re-posting this ALL DAY.