Live NHL Radio on the iPhone – Flames / Blackhawks Edition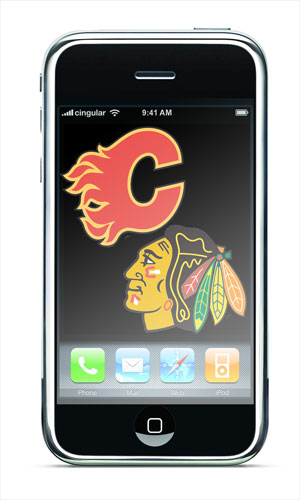 EDIT – This information is now out of date. Read the comments for information about ootunes – an excellent iPhone app and the most painless way to get a huge assortment of NHL game radio.
Happy Stanely Cup Playoffs hockey fans! By far the most popular thing I have ever written on this blog was this little throwaway post on how to get Calgary Flames game radio via the iPhone. Since traffic to that post remains absurdly high, (and most of the other information on that page is now obsolete) I thought I'd celebrate round one of the playoffs with a succinct version – not just for my hometown Flames – but also our round one nemesis – the Chicago Blackhawks (yes, the same Blackhawks of the great all-star voting ads with the mixed marketing message).
My fake-largess is twofold:
I will keep updating this information for every opposition team the Flames face – giving fans of other Western Conference teams a reason to cheer on the Flames.
In the (admittedly unlikely) scenario that the Flames manage to overcome a slew of obstacles to get through the first round – I want Blackhawks fans to be able to listen to every. Single. Second.
HOW TO LISTEN TO CALGARY FLAMES (FAN 960) or CHICAGO BLACKHAWKS (WGN 720) GAMES, LIVE, ON YOUR iPhone
Download and install the application FStream (either by clicking this link, or searching for it in the app store).
Start FStream and select "favourites"
click "edit" and then "Add new webradio"
For the "Name" box, enter whatever title you want (GoFlamesGo, Flames Radio, IggyIsBetterThanToews – whatever you want)
For Calgary Flames Radio – enter mms://38.99.208.186/fan960?MSWMExt=.asf in the URL Box (be careful about capitalization and punctuation – they're important). Then click "save".
For Chicago Blackhawks Radio – enter http://www.provisioning.streamtheworld.com/pls/WGNAM.pls in the URL Box (be careful about capitalization and punctuation – they're important). Then click "save".
You're done! Click on "play", and your station should appear on the main screen. Tap it, and your iPhone will connect to and start streaming that station!

Enjoy – and (regardless of rooting interest) have a great playoffs all!

Footnotes:

If you want FStream to work over 3G click on "More" and set the "Cellular Network" setting to "on" (WARNING: FStream can use a *lot* of bandwidth. I fell asleep with it on one night and pulled over a gig and a half before I noticed, use at your own risk on 3G networks)
FStream should automatically detect and fill in the "Format" and "Bitrate" setting, but if it doesn't the Flames format is "WMA" and bitrate is "20", the Blackhawks format is "MP3" and bitrate is "56"
Once you get this up and running on your phone, click this link and send a couple of bucks to j.averous@sourcemac.com – the genius behind FStream, which makes this all possible. Seriously this is major software he's just giving away. Given that we've all spent money on less than stellar apps, support those giving away their hard-work by throwing them some beer money. Knowing the French, he probably doesn't even like hockey!