U.S. Politics: Nyuck. Nyuck. Nyuck.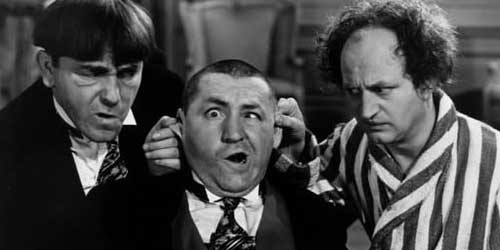 I promise not to make too much of a "thing" of US politics – others do it better and we've got enough issues of our own at the moment but, seriously, what exactly is going on south of the 49th parallel this week? Tim F's excellent round-up of yesterday's shennanigans alone doesn't even get into the fracas of David Letterman's ripping of John McCain (who it's worth noting has not only been on "Late Night" dozens of times, claimed a friendship with Letterman, but also announced his presidential candidacy on the show). Incidentally the video of Letterman's McCain comments is really worth a watch.
But the real winner has to come from that first BalloonJuice summary:
About why Secretary Paulson asked for seven hundred billion dollars:

"It's not based on any particular data point," a Treasury spokeswoman told Forbes.com Tuesday. "We just wanted to choose a really large number."

Across the country, satire writers sadly capped their pens and bookmarked monster.com.
Oh, a wise guy, eh?