Happy New (Glurk)!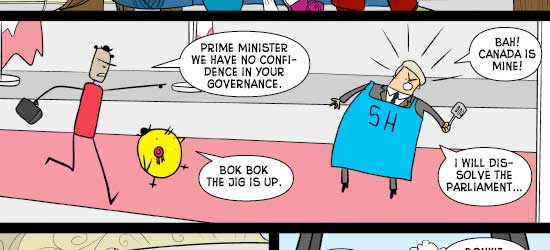 I decided to mix up festivities this year by apparently toasting in the new year with a large glass of influenza virus. In retrospect, I think I can see why "champagne" is probably the more traditional medium, as "general discomfort" really doesn't do justice to the past few days.
I have trouble reading when I'm sick, but managed to squeeze some of my "unexpected bonus vacation" time to read through several collected Scary-Go-Round volumes I received over the holidays. Like clockwork, I've been rewarded for my diligence by John Allison turning his laser sharp pen to five brilliant panels which sum up the entirety of Canadian politics.
Cons: Allison may be in the back pocket of the monarchy – trying to reassert it's colonial grasp
Pros: Heroic send-off for Stéphane Dion, Allison manages to avoid using (then subsequently having to define) the term prorogue.